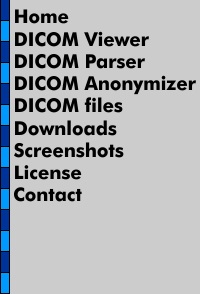 The Rubo DICOM Viewer is a professional viewer of DICOM data stored according to the DICOM standard, allowing you to bring medical images to your own PC. The software runs on any Windows computer and, when connected to a network or internet, is a very powerful tool for DICOM image and film (re-)viewing.

The package includes:
DICOM viewer
IVUS longitudinal viewer
Waveform viewer
DICOM CD burner
DICOM anonymizer
DICOM header parser
DICOM communication tool

PC based, Windows® XP/Vista/7/8/10
Supports DICOM 3.0
Supports all DICOM modalities, lossy and lossless Jpeg and RLE compression
Reads DICOM CDs from any manufacturer
Use in combination with any PACS
DICOM SCP, receive mode
DICOM push/send
DICOM query and retrieve
Overview display of CD, harddisk, USB or network contents
Able to handle large cardiac (1000+ images) runs, IVUS files (4000+ images) etc.
Multipatient functionality
Can be used within patient databases from any hospital, integrating the software with existing systems or used as stand-alone viewer
IVUS longitudinal viewer
Waveform viewer including data analysis
Burn DICOM CDs including a CD viewer
DICOM header anonymization
Anonymize image data drawing scramble-blocks
View the DICOM header with the DICOM header parser
Select and store image(s) for third party analysis software
Single- and dual monitor support
Parallel viewing of runs and/or images
Export of images to clipboard, bitmap, tiff, jpeg, jpeg2000, raw, DICOM or WMV
Scene cutting for optimal timing and database cleanup
Ideal for teleconsulting, send images or scene to other viewers
Cut DICOM scenes or waveforms shorter
Copy data to clipboard
Biplane display
Stack viewing
Brightness/contrast control
Real-time image enhancement
Zooming, panning, cropping
Distance and area measurement
Angle measurements, including Cobbs angle
Calibration tool
Histogram display
Apply various color palettes (f.e. hot iron, PET, hot metal blue, etc.)
Display of overlays, curves and ROI's
Printing images
Screen-fit to display large images (f.e. thorax)
Auto-stretch for optimal dynamic publishing and viewing
Mouse controlled, no keyboard needed
On-line help


Download the free demo of the DICOM Viewer.
Download the free DICOM parser.
Download the free DICOM anonymizer.