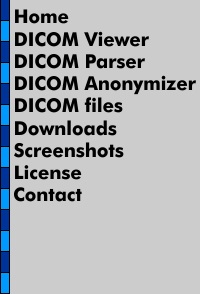 Rubo Medical Imaging BV is dedicated to developing DICOM software. We offer various DICOM tools, both free and licensed.

The DICOM Viewer package is capable of handling all DICOM files of any modality (X-Ray angiogram, ultrasound, CT, MRI, Nuclear, waveform etc.), compression (lossless and lossy Jpeg, Jpeg200, RLE), depth or color. It supports DICOM query and retrieve, DICOM push/send, DICOM DVD burner, anonymization, IVUS long-viewer, image conversion and much more.
View the DICOM Viewer online help files.

The DICOM Anonymizer anonymizer DICOM header data, supports pseudonymization and UID reference preservation.

The DICOM Parser shows the contents of a DICOM header.


Click here for the download page.