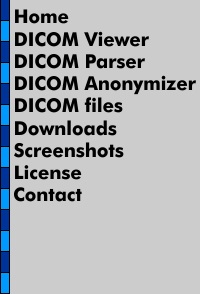 You can use the demo of our DICOM viewer 25 times without a license. If you want to use the medical viewer after this evaluation period, you must purchase a license. Contact us for license information by clicking on 'Contact' in the menu-bar on the left.

Demo version limitations: burn 5 files, send 5 files, receive 5 files maximum per go.

A license (single or network/floating) is lifetime, guarded by a USB hardware key, includes updates and is unlimited: no renewal or upgrade fees.



DICOM viewer, demo version
Click here to download the demo version of our medical viewer. Run the application to install.
Click here to view the DICOM Viewer help files.

To uninstall, go to your Control Panel via the Start menu. Open 'Programs and Features' and in the Category view, click 'Uninstall a program'. Find the 'DICOM viewer', click it and choose 'Uninstall'.


Anonymize single files or entire folders with DICOM files. Click here go to the free DICOM anonymizer page.
To remove the DICOM anonymizer, just delete the files.


Have a look in the DICOM header of your medical image files, structured reports, waveforms or any file stored in the DICOM format. Click here to download the free DICOM parser.
To remove the DICOM parser, simply delete the file 'DICOMparser.exe'



EULA, end-user license agreement
Click here to view the end-user license agreement.